The model T. also known as the "tin Lizzie," changed the way Americans live, work and travel. Henry Ford's revolutionary advancements in assembly-line automobile manufacturing made the Model T the first car to be affordable for a majority of Americans. For the first time car ownership became a reality for average American workers, not just the wealthy. More than 15 million Model Ts were built in Detroit and Highland Park, Michigan, and the automobile was also assembled at a ford plant in Manchester, England, and at plants in continental Europe.
Henry Ford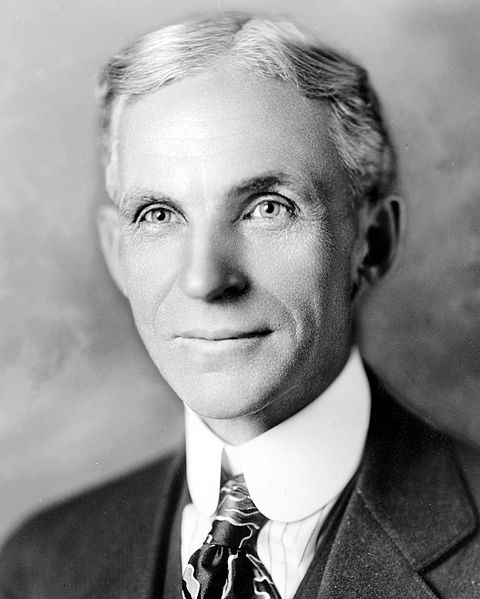 Henry Ford was born into a farming family in Dearborn, near Michigan in June 1863. From childhood he showed an aptitude for machinist, servicing and and repairing steam engines. He also studied bookkeeping. Whilst in Detroit he married Clara and had a son, Edsel.
In 1891 Ford went to work for the Edison Illuminating Company where his obvious talents earned  him rapid promotion. It was here that he first began to put into action his long-held ambition to build a horseless carriage, and in 1896 he presented his plans to Thomas Edison himself, who encouraged him to continue. ford's first car, completed in a tiny workshop in 1896 was called the Ford Quadricycle. It had and ethanol engine and four bicycle wheels.
Designing the first Model T Ford
Ford's visionary brilliance, however , led him in a different direction. He aimed to produce a car as cheaply as possible using standard and identical parts for each and every car. In fact he wanted to produce a car that was cheap enough to be afforded, eventually, by the ordinary person in the street. In 1906 he went to one of his employees Charles Sorensen and together they started a process of researching and testing the materials that would eventually be used in their affordable car. They brought in an English metallurgist, J Kent Smith, who showed them vanadium steel, a type of steel that was stronger but easier to work that the steels they had been using.
The assembly line
The Model T was offered in several body styles, including a five sat touring car, a two seat runabout, and a seven seat town car. All bodies were mounted on a uniform 100 inch wheelbase chassis. Assembly line production allowed the price of the touring car version to be lowered from $850 in 1908 to less that $300 in 1925.
In October 1908 the first model T was announced. It had two forward gears and a 20 horsepower engine. More importantly it was cheap to build and relatively easy to repair and maintain. Ford's next task was to develop a system of mass production that would reduce the labor costs incumbent on each vehicle to a minimum.
Between 1908 and 1913 he experimented with different production methods, eventually discovering that an assembly line, where the frame of the car was pulled along a different track to different workstations and specilist workers, was the most efficient method of production. This method minimized and organized the movement of people and materials through the plant, and so enabled cars to be constructed more quickly. Soon the production time was halved from twelve hours per car to just six.
The Model T at times comprised as much as 40 percent of all cars sold in the United States. Even before it lost favour  to larger, more powerful, and more luxurious cars, the Model T, known popularly as the " Tin Lizze" or the "Flivver. "  had become an American folkloric symbol, essentially realizing Ford's goal to " democratize the automobile."